University Life Hacks: Money-Saving Tips and Budgeting Strategies for UK and Australia Students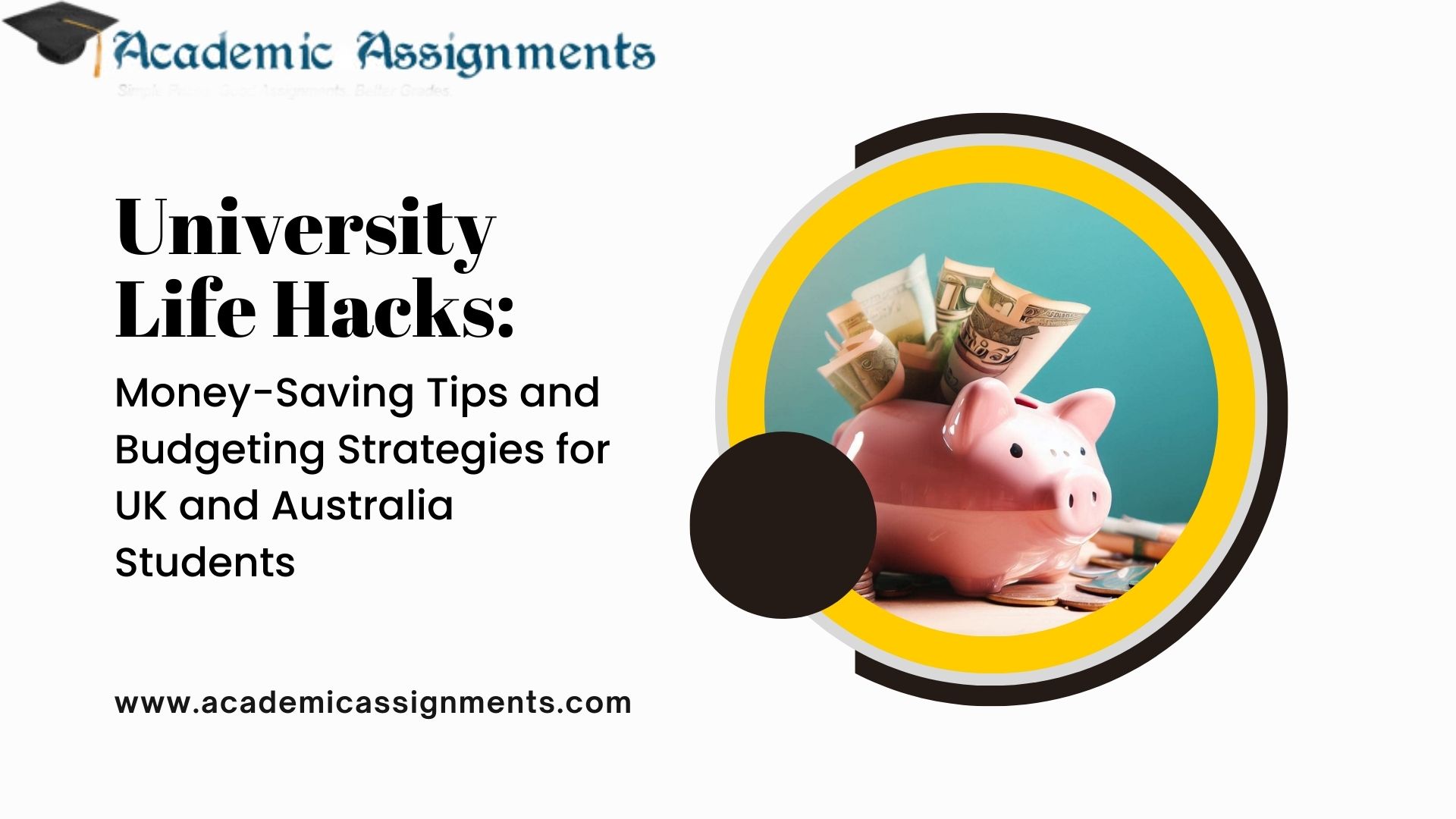 What is the importance of saving and planning a budget?
Every student in the UK and Australia needs to save money and prepare a suitable budget. This is because it allows the student to enjoy increased security in life. It is needed to save money for emergency and discretionary purposes. In the UK, students save money by indulging in second-hand shopping and purchasing products that offer discounts. Suggested below are the tips that help bring down the living costs during the tenure of their studies. Besides saving money, students can also enjoy being a part of the UK universities and enjoy a lot that the university has to offer them.
1. Opting for students' discounts
Candidates who are studying in a UK university shall seek out student discounts. Many places in the UK offer student discounts- from cinema halls, restaurants, OTT platforms, gyms, and galleries to high street stores. Most of the discounts provided are discussed openly; however, if the students need to be made aware of any of these, they can take help to know about the orders (uk.britishcouncil.org, 2023). The student must get a National Union Of Students TOTUM card initially. Having a membership of this enables the students to get subjected to various discounts. Free membership is also offered by UNiDAYS to university students.
2. Shopping sustainably and in a smart manner
Every city in the UK offers a wide range of supermarkets, and thus students need to shop tactically. Thus the students are suggested to shop from Morrisons, Aldi or Lidl as they are regarded as student-friendly supermarkets. A weekly purchase from these stores costs less. In addition, the students can also buy in bulk, provided it makes sense for them. They can also purchase supermarket-owned brands as they offer a much better value. Also, they can purchase quality food items as they do not have price tags.
3. Preparing foods and cooking own meals
Students can save much money if they prepare their meals at home. It helps in bringing down the costs. They can refer to the student recipe tips, for instance, the BBC Good Food (uk.britishcouncil.org, 2023). Cooking in bulk or batch cooking is preferred by many students. This is because they can get more variety in their meals, and splitting the cost of ingredients is very effective.
4. Purchasing second-hand products
One of the sustainable ways to save money is by purchasing second-hand furniture or textbooks. Regarding second-hand purchasing of books, students can choose eBay or Abebooks as they offer good discounts. Charity shops again can also be afforded by the students. This is because they can get their products at a comparatively lower price while paying for the cause of charity as well (uk.britishcouncil.org, 2023). Some well-known charity shops in the UK are Shelter and Mind, British heart foundation, cancer research and Oxfam. EBay, Facebook Market place and Gumtree offer a wide variety of second-hand furniture, household equipment and utensils.
5. Opting for free food and household items
In the UK, students may be surprised that they can avail high valued items offered for free. For instance, Olio helps connect people who acquire food to share that they no longer require. Restaurants, local bakeries and supermarkets such as Tesco sell food without charging. When it concerns the free exchange of items, students can adopt Freecycle. This allows the students to get electronics, household goods and clothing.
6. Staying conscious of the energy consumption
While paying the electricity bills, students can split the money, which helps them in saving more costs. In addition, they will also have to be conscious while using electricity and refrain from unnecessary use of energy consumption (uk.britishcouncil.org, 2023). To do this, students shall keep track of their spending. Excessive energy consumption can be saved by using smart meters, auto timers and LED light bulbs. Under the doors, draught excluders can be used, and when any electrical appliance is not in use, it is useful to turn off the power. Operating the washing machine in a 30-degree cycle can also help in saving electricity.
7. Availing of a National Railcard
When the students vail the National Railcards, it helps in saving 30 per cent on the train journey they take. Depending on the age of the students, discount options are offered to them (uk.britishcouncil.org, 2023). If the student is staying in London, they can link the National railcard with the Oyster Card as it helps them to get a discount of 34 per cent. However, the travelling expenses during peak times tend to be costlier. Splitting tickets can also help in saving train fare
8. Availing of cheap flights
Students staying in the UK can avail of cheap flights. Tickets can be bargained using the momondo or the Skyscanner. In addition, having complete holiday packages can sometimes be effective(uk.britishcouncil.org, 2023). The price of the flight tickets can be compared with websites such as lastminute.com.
9. Checking out the warehouse deals by Amazon
Warehouse deals by Amazon offer highly discounted goods that are mostly returned y the customers. The students can purchase these goods at a comparatively lower price. Students can also track and compare the price, which will help them understand the goods they are purchasing and how much they are paying for them.
10. Read books for free and a free extra tuition
If a student fails to get access to a student library or fails to save money on textbooks, he can opt for Google Books and Google Scholar. This will help them in saving money. Besides this, the students can also opt for free tuition classes as it is cost-effective. Such free classes are offered by the edX website (uk.britishcouncil.org, 2023). Students will no longer have to take tuition from the university professors and pay the charges. Instead, they can save that extra costs by offering free tuition from free websites that give study material on various courses.
Similarly, students studying at the Australian university also plan their budgets, and they can opt for money-saving tricks. Suggested below are the money-saving hacks with the help of which they can refrain from unnecessary spending during their vacation.
1. Students can apply for the HELP loan
In Australia, the Federal Government provides a higher education loan program that can help them bear university fees. Four different types of HELP loans are available for students (overseasstudentsaustralia.com, 2023). These are HECS-HELP, FEE-HELP, OS-HELP and SA-HELP.
2. Getting internships and jobs
While studying at a university in Australia, students can plan for their budget accordingly if they are lucky enough to get into internships (Pickard et al. 2021). Besides this, they will also get to meet new people. However, during their internship tenure, they can also avail of student discounts.
3. Student discounts
As a student opting for a full-time course in the university, travel concessions can be availed to them. However, those students who failed to avail of the travel concessions can show their student ID card and persistently look for the deals and discounts so that they do not miss out on the opportunities (overseasstudentsaustralia.com, 2023). In addition, the ISIC cards can act as a surprise for the students; with the help of this, they can make the most out of their time.
4. Act smart with the food and grocery shopping
After the students have accommodated themselves in Australia, they shall look after their grocery and food expenses. Students can save their spending by purchasing supermarket value products (Pickard et al. 2021). For instance, they can opt for Aldi, which offers discounts on groceries and vegetables mainly on Saturday and Wednesday.
If students want to save 5 per cent on groceries, they can avail themselves of the Woolworths gift card. With the help of this, they can get cash rewards and using that, and they can save 5 per cent on the entire expense.
5. Saving transportation cost
One of the most reliable and cheapest modes of transport that Australian students can avail is public transportation (overseasstudentsaustralia.com, 2023). Another reason public transportation is the best option is that most universities are city- or campus-based, having networks with public transportation routes.
Students can get accommodation that is in proximity to their university. This will help down in cutting transportation costs. In addition, they can also use public transportation during the off-peak hours as the costs are much cheaper then.
6. Opting for cheap accommodations
During their stay in Australia, students can avail of accommodations that are comparatively cheaper and in a manner that can fit their budgets. Students can take help from websites such as semesterinaustralia.com for cheap and budget-friendly accommodations. In addition, some of the cheap accommodations are also available in Melbourne.
If the student is renting the accommodation with the help of a private landlord, he has to indulge himself in negotiations (overseasstudentsaustralia.com, 2023). To save costs, the rent can also be shared with another companion. However, if the student wants to avoid negotiating the rent, the students can discuss a share of their electricity, gas, water and internet bills.
7. Seeking out pocket-friendly entertainment options
Besides engaging in Academics, students shall also indulge themselves in leisure activities as it will help them alleviate stress. In other words, engaging in leisure activities also helps improve students' academics.
8. Planning out a suitable budget
Studentsts staying in Australia shall plan their budgets depending on the expenses and income. This can be done by keeping track of the finances and refraining from spending on things that are not deemed necessary. It is also necessary to categorise the expenses as important and unimportant (overseasstudentsaustralia.com, 2023). For example, paying the accommodation and the transportation fee is important. However, spending for fun and entertainment can be kept aside. Students shall also keep in mind to save money for emergency purposes.
9. Course supplies and textbook
Instead of purchasing books, students can borrow their books from the library. This can act to be cost-effective (Pickard et al. 2021). Or they may also buy old textbooks if they are unavailable in the library. Often on university sites, students who have already passed out post ads where they want to give away their books for free (overseasstudentsaustralia.com, 2023). Gumtree can also be availed by the students for getting free textbooks. Students from Oficeworks or Kmart can also avail cheap supplies. If students want to get software for their studies, they can use LibreOffice instead of Microsoft Office. In addition, many alternative or free sources can assist students in their academics.
10. Opt for affordable clothing
Purchasing clothes in the off-season can be a great option for students to save money. They should always watch the deals, special offers and sales the shopping malls offer. In Australia, there is a prevalence of Australia Day, boxing day, cyber Monday and so on (overseasstudentsaustralia.com, 2023). Some students prefer premium brands as well. Thus they can opt for the factory outlet stores or the DFOs in the shopping centres. On the contrary, if the students run on tight budgets, they can get their apple shopping done from the Vinnies and Salvation Army. Purchasing online apparel can be made affordable by using Shopback websites and cash rewards as it enables students to get cash backs.
11. Banking opportunities
While studying at a university in Australia, students can look for a bank and save money to offer them the best interest. Also, the student has to refrain from using credit cards as they include the yearly costs. If the students fail to repay the debts in time, they may be charged high-interest rates (overseasstudentsaustralia.com, 2023). When transferring money, students shall check the exchange rates and see whether the money transfers suit them.
12. Looking for suitable entertainment options
Students are advised to watch movies after the peak hours get over, which is mostly the morning and the weekend nights. They can also opt for a Groupon or a 2-for-1 deal from the various providers. A Netflix subscription can also allow students to share the subscription charges. Regarding gym membership, students can opt for available promotions and offers (overseasstudentsaustralia.com, 2023). While studying at a university, students might not have to pay for gyms because the university provides it. In addition, Australia offers plenty of parks which students can use for jogging and training themselves in the pursuit of general fitness.
References
uk.britishcouncil.org (2023) Available at: https://study-uk.britishcouncil.org/moving-uk/cost-studying (Accessed: 03 July 2023).
overseasstudentsaustralia.com (2023) [online] Available at: https://overseasstudentsaustralia.com/a-comprehensive-guide-on-saving-money-in-australia-as-an-international-student/ [Accessed 3 Jul. 2023].
Pickard, A.C., Beasley, R. and Nolan, A.J., 2021, July. You Don't Save Money by Doing Less Testing–You Save Money by Doing More of the Right Testing!. In INCOSE International Symposium (Vol. 31, No. 1, pp. 1004-1018).‌
FAQs
1. Why do students in Australia and the UK need to save money and allocate a cost-effective budget?
Ans: Saving money is essential as it provides financial security, lessens the debt of burdens, helps them save their future expenses and helps raise a long duration of financial independence. In addition to this, a budget helps in the creation of financial stability for the present day and for the future.
2. How students in the UK get benefitted from the discounts?
Ans: When students avail discounts in the UK, they can save money for future expenses. Also, by creating a budget, they can be financially independent. During their stay in the UK, they can avail of discounts in shopping, OTT platforms, and gyms, and all this can be done by using a TOTUM card. UNiDAYS also provides discounts on various things to the students.
3. Is purchasing second-hand products useful for the students of the UK?
Ans: Purchasing second-hand products also acts as a good option for students regarding budgeting. For instance, they can choose eBay to buy valuable second-hand goods. Besides this, Gumtree and Facebook Marketplace also offer students various valuable second-hand products.
4. How international students in Australia shall do the grocery shopping?
Ans: In Australia, students can avail of Woolworths gift cards as it offers a discount on their shopping. It offers almost a five per cent discount on every product they purchase. They can opt for Aldi, which offers discounts on groceries and vegetables.
5. How can students in Australia reduce transportation costs?
Ans: Students can reduce their transportation costs by using public transportation. They can also avail of concessions in public transportation by showing their student id cards. Also, if the students choose their accommodations close to the colleges, they barely need to opt for public transportation services. In this manner, they can save the transportation costs.
Author Bio: Mark Edmonds is a seasoned writer and an education expert. With years of experience, he has become a trusted source of valuable insights and advice on university life. As a dedicated staff member at Academic Assignments, a leading provider of top-notch assignment writing services, Mark is passionate about helping students succeed academically. His expertise lies in money-saving tips and budgeting strategies tailored specifically for UK and Australian students.