Personal Statement Examples to Help You Create an Everlasting Impression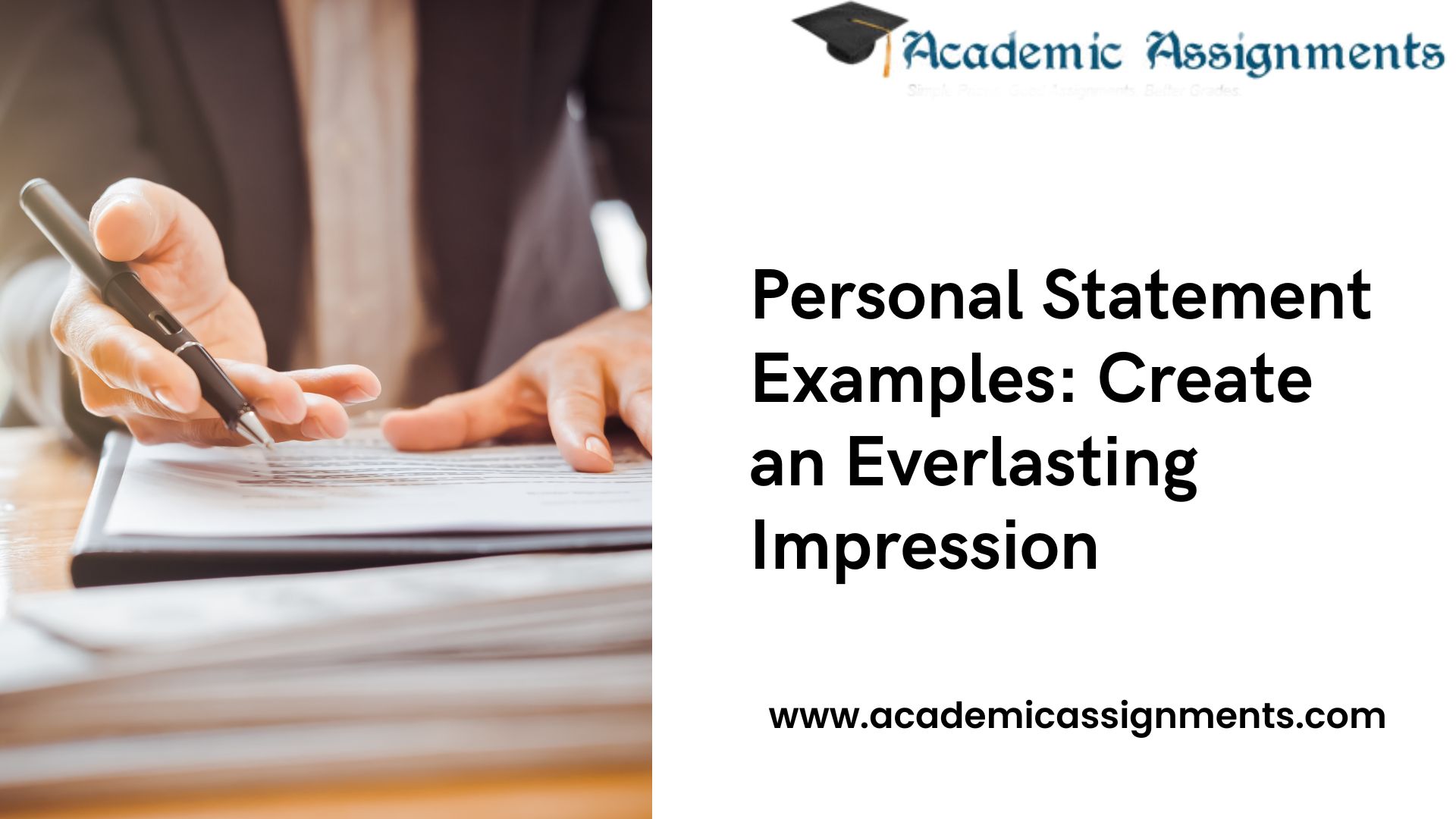 Personal statement plays a crucial role whether it is used professionally or personally; it enables one to stand out. This powerful tool opens many doors and makes a smoother path for individuals to step into a new journey and achieve their goals. Competition is rising daily, and students need help with this and finding ways to get admission to the best colleges and universities. The increased competition, along with the limited number of seats,, has increased the role of personal statement and helped individuals showcase their unique qualities, abilities and skills. It allows the students to craft an exceptional personal statement that enables them to be different from others and thus leave a lasting impression on the authority. Dotting up the personal statement is daunting, and one should be particular about the statements. In this blog, we will explore personal statements in various aspects, and you will gain an idea about what is a personal statement, why it is important. You will also find five different examples of personal statements along with tips.
What is a Personal Statement?
A personal statement can be defined as an essay that documents an individual's qualities, accomplishments and future goals. This essay gives an overview of an individual and helps the reader understand what type of individual they are and their respective goals. This is used to judge a person based on the statement that the candidate submits.
Thousands of students apply for similar courses, and selecting limited students based on their merits is quite a tough job for authorities. Thus, the universities have introduced a new column called the "Personal Statement" in the application form. This section has been introduced to break the barrier and thus judge the students not only based on their marks but also judging them concerning their abilities and disabilities. This essay helps to introduce the candidate to the authorities or the readers. Thus, one must focus on crafting the personal statement section in a new creative way to reflect their creativity and analytical skills, thus leaving a lasting impression on the reader; the essay also decides their chance to get admission in the particular college or university. Mostly the application form of the universities focuses on gathering information about the aspiring students' hobbies, achievements and future goals of the aspiring students, and thus these insights, along with merit marks,, make the selection procedure a little bit easier for the authorities.
Tips to Scratch a Perfect Problem Statement
While searching the internet, one will find many solutions saying there is no perfect way to craft a problem statement. But the truth is that one must follow certain set rules that one must follow to make a lasting impression. From the beginning, we have discussed that this is an essay which pens down various characteristics of an individual. But though it is an essay, it must be done under specific guidelines. So before starting the essay, one must keep the following lists; this may help one to draft a perfect personal statement:
Avoid writing an Autobiography: The personal statement is a sub-section of your application so the organisation already has the required basic information about you. So avoid reiterating the things which are already known to them. This is the most common mistake that is made by students, the simplest and most impressive way to start your essay is to begin with the main objective of your essay, but you must be specific and accurate and avoid using passive voice in your essay.
Don't Make Fake Statements: The pressure of making a lasting impression puts pressure on individuals who create fake statements. But stop faking as experienced professors read the applications; thus, they can identify and distinguish who is telling the truth and is simply faking. Thus avoid making such lame mistakes which can directly hamper your impression and may cancel your admission. There are no shortcuts to achieving your dreams. And use your creativity to make a lasting impact on the readers.
Narrate a challenging story to the reader: The students can adopt this strategy and may narrate a challenging story if they have handled any tough situation. Their story can positively impact the reader, and on the other hand, this will express their problem-solving ability. Colleges and universities always look for students who can share their experiences with reality.
Include Special Skills: Universities and colleges have a section mandatory for the admission procedure as they want to select the candidates not only based on their marks but also by judging their skills. To make your statement impressive, the candidate must make sure that they can better understand what qualities they possess; you never know if the mentioned qualities may make you different from the crowd and may make you the accepted candidate among the shortlisted candidate. The skills may involve any advanced course, language other than the mother tongue, and prior experience in job application types.
Avoid Overselling your Skills: You should make sure while crafting the essay it must not cross the limit and be yourself and focus on crafting your abilities and also your disabilities.
Why is a Personal Statement Important?
A personal statement is essential to various applications, such as college admissions, job applications, and scholarships. It allows individuals to express their unique qualities, experiences, goals, and aspirations in writing. Here are some reasons why personal statements are important:
A Personal Statement is an essential component used in various fields such as college admission, job application, scholarship application while applying for any courses, personal medical statement etc. It allows individuals to showcase their unique qualities, experiences and goals in a written format. Before writing a personal statement essay, one must know to what extent it matters. This plays a crucial role as it allows one to present their personality and individuality, hobbies, areas of interest, weaknesses and strong points. It provides a platform to prove themselves by their uniqueness, experience and perspectives, making them a valuable candidate for the organisation out of a thousand applied candidates. This gives an overview of the candidate's qualification, and other necessary information allows the organisations to choose a candidate as per their credibility for the position. The essay must be written convincingly and approachable so that the reader gets convinced by the essay. If a candidate is applying for a job application it provides a candidate with the opportunity to express their passion for the job role, and they may mention what factors excites= them to pursue the job role; they can also explain what factors have influenced them to choose it and how it aligns with their long-term goals and they what their future expectations and planning.
This plays a major role in showcasing your communication skills and allows an individual to showcase their ability to express effectively; these skills are valuable in academic and professional platforms. This is also very important as it helps build a connection with the reader, which further helps the candidate. As this platform allows one to share their stories, this can emotionally impact the reader, which helps to understand the candidate in a better way through the application.
Personal Statement Writing Example
This section sheds light on the various examples of personal statements in different fields. This will explain 5 different types of examples.
Personal Statement Example for University
Before writing a personal statement for admission to the universities, students must follow the following guidelines. As the requirement varies with the university, most basic requirements are similar, but the requirements differ by some points. The candidates must write the following points in their statement:
What motivates you to study at that particular university
Why you are a perfect candidate for the university
What is your chosen subject, and why have you chosen the subject
Write about your skills and achievement
The following example will help to assist you in drafting a perfect personal statement
Personal Statement for University
Example 1
My educational journey was exciting all the way; from childhood, I have been very passionate about my studies and always gathered knowledge with the help of my teachers. Since childhood, I have understood the power of studies, which helps transform lives and positively impact society. I have always pushed myself to excel in my skills and knowledge to make myself academically strong, which can make me financially strong. Throughout my high school journey, I actively participated in class discussions, Olympiads, quizzes and debates. I love to accept challenges and learn new things, as practical knowledge greatly impacts our memory rather than theoretical knowledge.
Beyond academics, I have also actively participated in extracurricular activities that helped shape my skills and character. I involve myself in community service so that it helps to bring positive changes in others' life. Since my undergraduate days, I have been connected with an NGO that helps orphan children; they aim to educate them. I work as a member and teach small children who are unfortunate to get the proper education. Education should not be limited to textbooks, classrooms, lectures, or notebooks; it must extend to applying them and thus gathering experience that will further help bridge the gap between theory and practice.
Moreover, exchanging knowledge and ideas with different individuals, backgrounds, and cultures enriches knowledge and fosters a broader understanding. My learning and knowledge could bring a positive change in their livelihood, and this way, we can eliminate poverty in our country. These activities taught me that you must not limit your knowledge within yourself if you share the knowledge with underprivileged children.
I want to be admitted to this University and set apart my eyes on its commitment to academic excellence and interdisciplinary collaboration. Before making this big decision for my family, I had done extensive research on many universities, and I am impressed by the university's faculty and other facilities. I want to study social welfare, and the department is very good, and its curriculum perfectly aligns with my education and career aspirations. This platform is the perfect place to expand my learning and thus make a meaningful contribution to society. This subject excites me as it allows me to change society positively.
I look forward to collaborating with the faculty and fellow batch mates.
Personal Statement for College
Crafting this essay is a much easier task, and students don't face any challenges while crafting this; rather, students face challenges with personal statements for university. The personal statement is quite similar to the Personal Statement of the University; in addition, a few points are similar to the points of the University. The personal statement for college must be strong enough and impressive simultaneously to ensure that your name can book the handful of seats. So before writing this application, students must be careful about every sentence they write. The Personal Statement for college must include your qualification for your schools and the subjects of your higher secondary. You must mention the subject or course you chose to develop your career. And also, mention why you have chosen this college to pursue your undergraduate and what factors influenced you to select the particular college. You must mention some of your qualities and skills besides your educational qualifications.
Before crafting the essay, the students must follow the particular guidelines of the college as most of them have their specific guidelines, and they are very much strict following the guidelines. To be perfect with their application, students can follow the following personal statement example, which will help them to move forward and thus craft a perfect application which will ease their admission procedure.
Personal Statement for College
Throughout my school years, I have always been an active student and the first standing girl in the classroom. I always pushed myself to learn new things, and whenever I had any problem with my studies, my teachers were always there to help me. I was a student at "ABC School, where I started my educational journey from class 1. Along with academics, I also have an interest in another extra curriculum which involve the Science Olympiad, the Math Olympiad and other quizzes and debates, I always took part in those events, and I have a record in my school that every year I bring a trophy for my school. For my excellent results once I got promoted to the next class.
Along with Academics, I have also excelled in my skills outside my studies; I love to play basketball and have an interest in playing Badminton. I always keep myself updated with the latest news. Since my childhood, I have had a habit of reading newspapers. Since my childhood, I always challenge myself to achieve new heights. As I have mentioned, Academically, I have mentioned excellent grades, have also involved myself in extracurricular activities and have made my school proud of me by bringing awards for the year.
Along with Academics, I also love to communicate with people, thus in my spare time, I make influential videos which I post on my YouTube channel; I think education gives us the power to bring transformation in society, so individuals must not limit in their learning within themselves rather they must positively share their knowledge so that it can also help others. Also, I love to communicate with people, so in my spare time, I spend my time helping people. I am engaged with a Social Worker team who work for women, so I communicate there with individuals from different backgrounds and cultures who suffer from various challenges. Communication can solve any challenge, so I communicate with them to solve their problem. I believe that these activities have shaped me into a better person, and I have gathered a lot from these practical experiences, which involve understanding the value of emotions, how money matters and to what extent good communication can help others. These lessons will help me in future to move ahead.
As I have completed high school, for my further studies, I have chosen English as the subject I want to pursue my under graduation course. I believe in the power of education and am eager to engage myself in an institution where I can share my knowledge with other children. I am very excited about the diverse and inclusive community of the college; my elder sister is a pass-out student of this college, the faculty is very cooperative and helpful, and one chance to get admission to this college will be a life-changing opportunity. I strongly believe that your institution will help in enriching my learning experience and thus will help to promote my personal growth. I am eager to collaborate with a diverse group population from backgrounds and cultures, and exchanging my ideas with my teammates and faculty will help broaden my knowledge. I believe that your institution is perfect to provide the ideal environment for me to shine academically, personally, and professionally. I have a track record of leadership and community service and wish to bring positive change to society. If I get the opportunity, I will generously contribute to your organisation and leave an impressive legacy.
Personal Statement for MBA
A Master's in Business Administration is a prestigious degree, and the institution looks for exceptional qualities in the students. Earning this degree requires hard work and patience as this involves a lot of assignments simultaneously, so students in their statement must mention their ability to manage time as they are required to meet deadlines. Before writing the application, they must follow the application format, as it differs for the various institution. Students, before writing the application, must meet with the following points:
Your Academic Qualification
Why have you chosen the MBA program
If you have any work experience, mention that in your application
What factors make you different from others
The points mentioned above are the key to crafting a perfect application. You can also follow the following example that can help you to develop a perfect application.
Personal Statement for MBA
I have completed my undergraduate with Business management, and the subject has raised my interest in this study area. Also, during my childhood, during my summer vacation days, I used to help my grandfather to manage his books store. From then, I used to handle customers, and the complex nature of the business raised my interest in growing my own business someday. From then, I started planning my future that way, and thus I have also completed my undergraduate with Business management. There is no limit to learning, and the more I learn, the more I can efficiently handle my own business. Since childhood, I have been fascinated by the nature of business and its endless possibilities for growth and innovation. During my undergraduate day, the courses got crisscrossed with subjects like finance, marketing, operations, and economics; thus, my UG course has helped me develop a solid foundation. Upon completing my Undergraduate degree, I thought to explore my theoretical knowledge in a practical field and joined a reputable company. I have done an internship there, and there I got the opportunity to work with diverse, experienced people, and my roles and responsibilities have given me invaluable insights into the complexity of business operations.
Moreover, these experiences have all together shaped my analytical and managing skills, made me a perfect person, and enhanced my strategic thinking ability. So other than academics, my internship has raised my passion for business management. The practical knowledge has helped me make strategic decisions and know how to handle tough situations and various challenges in business operations.
My professional journey was quite good, but along the way, I have realised that there are still limitations with my current skills and knowledge, which may impact my business further. I should complete an MBA course to overcome those challenges. And I have chosen your institution out of the existing institutions because the exceptional faculty and the available facilities with advanced learning technologies align perfectly with my ambitions. In addition to that, your institution provides the best placement opportunities to the students, and I am especially drawn to your institution's diverse and collaborative atmosphere. The environment will allow transferring of knowledge with a diverse population and will help to broaden the business mindset. Pursuing an MBA from your institution plays a crucial role in my personal and professional journey.
I am looking forward to getting an opportunity in this organisation; I will be equipped to tackle the challenge in business operations and will be able to make an ever-lasting difference in the organisation in which I will serve.
Personal Statement for CV
One would wonder why a personal statement is required for a CV as the company already have all the required documents of the candidate, but the MNCs sometimes want the candidate to attach a personal statement along with the CV to understand the personality of the candidate. This is crucial to achieving the job. The application must be very specific and aligned with the job description, and one must focus on the advanced skills necessary for the job.
Personal Statement for CV
I am a recent graduate pass out from the University of California with a 2:1 honours degree in marketing. During my course, I also did an internship, giving me a lot of practical experience. I am confident in my skills and ability to make efficient decisions for my organisation's team. Throughout my internship career, I have developed good leadership qualities; the practical experience has allowed me to develop diverse skill sets that encompass technical expertise and effective communication. In my earlier company, I was assigned the role of Marketing executive; there, I was responsible for making strategies to run the marketing campaigns; I also managed production and maintained the company's budgets. All these experiences have provided useful insight into marketing operations. All these experiences have allowed me to develop critical thinking skills; I have also learned how to handle pressure during rush and high demand. Along with this skill, I have also done a course on digital marketing from a private institution. I have knowledge of social media marketing (SMM), content marketing, Search Engine Optimisation (SEO) and Search Engine Marketing.
I have always pushed myself to excel in my knowledge and skills, and I keep myself updated with the latest skills and advanced courses. This passion makes me different from others, drives me to deliver exceptional results consistently, and motivates me to grow and learn in addition to my technical skills continuously. I am a quick learner and a hardworking individual. I love to accept challenges, and I believe in the power of effective communication. Furthermore, I possess strong time management skills, which enable me to meet deadlines without compromising the qualities of the task. I can also handle multiple projects at the same time. I am confident that I can handle any tough situation, and being a dedicated candidate, I can serve the company excellently. My skills, experience and passion make me an ideal candidate for the Job role.
I look forward to an opportunity to contribute to your organisation for success and an everlasting impression on your company.
Personal Statement for Medical
Medical Profession is the most prestigious degree, requiring a lot of dedication and effort. Pursuing this career is a dream for every student, so one must focus on crafting a perfect problem statement to make this dream come true. The personal statement allows individuals to showcase their unique qualities, experience and what motivates them to serve the patients. This also allows the candidate to express their commitment to the medical profession. This personal statement is quite different from other types of personal statements. This statement is important as it allows the admission committee to understand the candidate's dedication to helping others, their empathy, and their effective communication skills. The application must be influential so that it can emotionally affect the authorities. So before writing this application, one must focus on the following points and must mention the following points:
Start your application with an attractive story that can help to grab the reader's attention
Explain why you want to pursue this medical course.
Explain why you have chosen that particular medical school
Personal Statement for Medical
Once in my school days, when I was in class 4, my teacher told us to write what we wanted to become. That day I was an only child in the classroom who wanted to become a doctor. At that time, I only had a little about the course, roles and responsibilities and the duration it takes to complete the course, but from then, I had a dream to pursue a career in the medical profession. I have huge respect for the medical professional who profoundly impacts the lives of individuals and communities. This has raised my interest in this profession and thus made a meaningful change in individuals' lives. I know that this profession encompasses immense responsibilities, and I am committed to a lifetime of learning.
With my growing age, I have noticed people's struggles with medical issues; I have witnessed the struggles with my family members as they need to face various health challenges. As I embarked on my academic journey, my love for science and curiosity to learn more about the subject grew stronger. So, I started to have depth understanding of subjects like biology, chemistry and anatomy, and I tried every possible way to excel in my knowledge and thus develop a strong foundation in the subject.
I am looking forward to being admitted to your organisation, and I believe that pursuing the degree will not only allow me to fulfil my dream but also the organisation will allow me to have a better understanding of the subject, which will further help me to grow personally and professionally. I am eager to contribute to society and thus bring positive change to society.
Conclusion
A personal statement plays a vital role as it allows the students to inform the readers about their personality, hobbies, area, and interest through an impressive essay. There is no perfect format for the application, but before crafting the application, one must be careful and specific about the requirement of the application. The above section has broadly defined various types of personal statements, and students, before writing the applications, must look at the examples. Recently Universities and colleges have introduced this personal statement section in their admission form as this enables the authorities to make a fair judgement, and they can select the candidates not only based on merit marks but also on individual qualities, accomplishments and future goals. The applications must be impressive and reflect some challenging stories of the candidate with some mentioned skills, and in addition to that, it should also involve why the particular organisation or company must hire the candidate. The application must not involve any fake statement as the application are read by experienced professional who can easily identify who is faking and who is stating the truth statement. And most important, don't oversell your skills and be within your limit.
Author Bio: Mark Edmonds is a talented writer at Academic Assignments, specializing in delivering top-quality assignment writing services to students. With a passion for helping others succeed, Mark offers expert guidance on crafting personal statements that leave a lasting impression. His expertise and dedication ensure students receive exceptional support in achieving their academic goals.