How To Get A Management Internship In The UK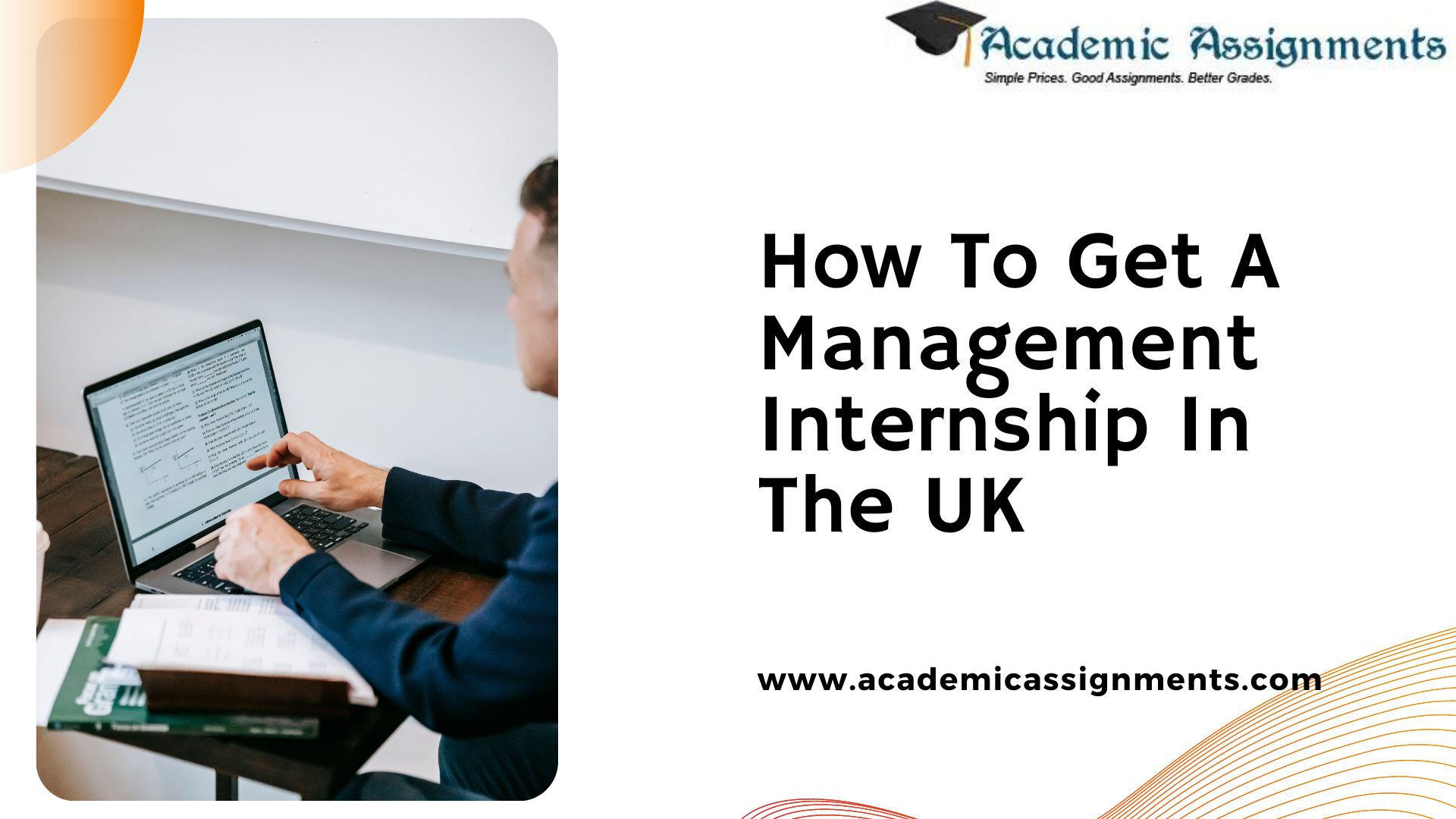 What is an internship in management?
An internship refers to the learning experience in a professional way that gives meaningful insights related to any field of study. In other words, an internship offers the opportunity for the students for career development and exploration and to acquire new skills. On the other hand, the employer provides an opportunity to implement new ideas in the workplace.
The internship is important in management as it helps the students gain relevant skills. It is useful for the managers as well as it helps in evaluating the capability of a student. Sometimes, employers also recruit employees from among interns instead of advertising about the vacancies (Odio et al. 2014). However, many management students have lost out on internship opportunities during the pandemic. To look for internship opportunities, management students shall look for internships on the websites of management schools and universities. Also, they can come in contact with the employer's profile to see the opportunities made available by the employers. In addition, management interns can also communicate with the interns on various social media sites to get engaged as interns.
Duration of the internship programs
The duration of the management internship programs depends on protocols set by the employers and by the guidelines of the organisations. Hence, an internship can last a year or even months (Lei and Yin, 2019). Summer internships last for a longer time; as a result, summer internships are mostly preferred by students. Universities never give accreditation to internship programs; however, some organisations formally acknowledge the internship programs.
Payment for the interns
In the UK, an average intern earns an amount of £20,700. This is because when a management intern does the worker's role, he is entitled to a minimum wage set by the National Minimum Wage. A large number of interns are categorised as workers when they perform the same duties as paid workers and meet deadlines as are done by them.
How do you apply for an internship?
The application needed for a management intern is competitive, mainly in the industries such as management and media. To get into an internship program, a student shall apply before six months, which is considered beneficial. The requirements of the application vary from one company to another company. Some management companies must fill in an application form and attend an interview to qualify as an intern. However, some companies only demand a CV and a cover letter. Students should understand that they should have the motivation and knowledge to derive from the internship program and why they want to work for that company (Zehr and Korte, 2020). In addition, students may also be required to show that they possess all qualities that match an organisation's requirements to work as an intern.
Advantages of becoming a management intern
There are various advantages of becoming a management intern, which are discussed below as follows:
It helps ease the transition from being a student to becoming a professional.
It helps elevate the knowledge and skills.
It helps in developing the knowledge related to the particular job or industry
It helps gain insights into how the organisation operates and what opportunities it can provide to an intern.
It also helps in providing the best internship opportunities.
It helps provide real work-life examples, which can be used in future job interviews.
An intern is also assisted by the supervisor, which helps develop his skills that further act as fruitful in future job interviews.
Disadvantages of Business Management Internships
Interns may be involved in long working hours, mainly on holidays and weekends.
Some of the jobs are low-paid or unpaid
Some of the jobs can include tedious tasks
Students working as interns are subjected to limited job security; they mainly owe temporary positions.
Internships also comprise a competitive application process.
Various types of business management internships
The organisation a student works for, and the industry in which he would work is determined by his experience at management internships. Students can choose to participate in the summer internship programs or the other internship program that only lasts for a little. UK organisations for business management internships offer a wide range of opportunities. Other major cities, including New York City, offer interns a wide variety of opportunities. Some of the wide variety of sectors available for internship and management are leisure, retail, hospitality, finance, travel, logistics, merchandising and construction.
What are the ways to apply for a management internship in the UK?
If a management student is looking for an internship job, there are various ways by which he can apply for the job. Websites such as Indeed, Rate My Placement UK, and LinkedIn offer students a wide variety of internship opportunities. If a student is looking for management internships, he can be suited for the current opportunities that would suit his profile. If a business management internship brings success, a student can be offered government management jobs within the same industry and company. There are many companies where students can apply for business management internships. Students can apply at the
Natixis UK Internships London
Hanover Communications London
WZVIZ UK & Ireland London
Ember
Morgan Stanley
DTCP, Private Equity Intern
Eurazeo, Business Development Intern
Protein World Business Development Intern
Odicci, Internship Solutions Consultant
Societe Generale Global Markets 2024
Internship Program at Sanctuary graduates
Matlock Job Wize Careers
UniCredit Sales intern
Internship at Goldsman Sachs
Availing internship at Goldsman Sachs offers the summer analyst program, which extends from 8 to 10 weeks for undergraduate students if they want to indulge in their day-to-day activities. As program participants, students will be able to attend the orientation, where they will learn about the culture and the advantages and responses of being a team member (Odio et al. 2014). They also receive the training required to succeed in their future endeavours. Moreover, the interns can avail themselves of the opportunities to perform their responsibilities with their fellow interns. Any candidate pursuing an MBA degree in any university in the UK is eligible to practice as an intern at Goldman Sachs.
What does the business management internship comprise?
Business management schools all across Zurich recruit talented interns with increased potential. The internship program that persists for 10 weeks provides the opportunity to go through various opportunities that help increase career development skills. In other words, the unique opportunity provided helps to function in a real-life business environment, thereby helping to acquire invaluable knowledge, experience, and skills and interns are also helped to make decisions (Zehr and Korte, 2020).
Training and development are provided to the employees to help sharpen their existing skills and acquire new skills. Thus, during the internship program, HR managers take the initiative to provide training and development programs to their employees.
To qualify as interns, students need to have the urge and enthusiasm to develop a comprehension of the business area in which the student will be placed and understand the business mission and vision as a whole—interpersonal skills such as team building ., organisational skills, influencing skills and communication skills. Throughout the internship program, students are allowed to learn about new things. Various things related to strategic marketing and supply chain management are taught to the interns. Senior managers and industry experts take equal initiative in guiding the students and helping them to foster their future endeavours. In addition, interns are encouraged to participate in departmental day-to-day activities and real projects that help enrich their knowledge. Based on the team, the interns will be placed at offices in various locations such as Farnborough, Fareham, Birmingham, Swindon and Leeds. Also, flexible opportunities are provided based on preference and per the manager's discussions.
References
Odio, M., Sagas, M. and Kerwin, S., 2014. The influence of the internship on students' career decision-making. Sport Management Education Journal, 8(1), pp.46-57.
Lei, S.A. and Yin, D., 2019. Evaluating benefits and drawbacks of internships: Perspectives of college students. College Student Journal, 53(2), pp.181-189.
Zehr, S.M. and Korte, R., 2020. Student internship experiences: learning about the workplace. Education+ Training, 62(3), pp.311-324.
FAQs
Q1. What do you mean by internships?
Ans: An internship refers to the learning experience acquired professionally, and it helps give the student meaningful knowledge related to the area of interest. In other words, an internship gives student chances to explore their career and develop themselves accordingly.
Q2. State the advantages of working as interns.
Ans: An internship program helps enrich the experience and assist in becoming more competitive when applying for jobs. It helps expand the professional network, and interns are often positioned from mid-level to senior-level managers. The knowledge acquired during the internships can be applied in real-world situations.
Q3. What are the disadvantages of an internship program?
Ans: Sometimes, the interns are treated as assistants, and there always lies the potential to earn low. Sometimes, the level of competitiveness can be intense, which can be difficult for the interns to bear. Interns can create barriers for those people who want to seek full-time employment. Also, interns are made to relocate, and if the situation worsens, they are given menial jobs.
Q4. What is the duration of an internship program?
Ans: An internship program lasts six months and can extend up to one year.
Q5. Name some of the UK organisations that give the interns the best opportunity.
Ans: A few of the organisations that offer the best opportunities to interns are Odicci, Internship Solutions Consultant, Societe Generale Global Markets 2024, Internship Program at Sanctuary graduates, Matlock Job Wize Careers, and UniCredit Sales Intern.
Author Bio: Meet Mark Edmonds, an old pro at Academic Assignments, gaining practical experience in directing students towards getting desired management temporary jobs in the UK. With an abundance of knowledge and an enthusiasm for helping students accomplish their vocation objectives, Mark's skill radiates through in his wise articles. Past his writing, he effectively adds to Academic Assignments' main goal of conveying top-quality assignment writing services to students worldwide. Mark's commitment to training and vocation improvement is clear in his work, making him a significant asset for hopeful understudies looking for potential open doors in the powerful UK business landscape.