Career Advice For College Students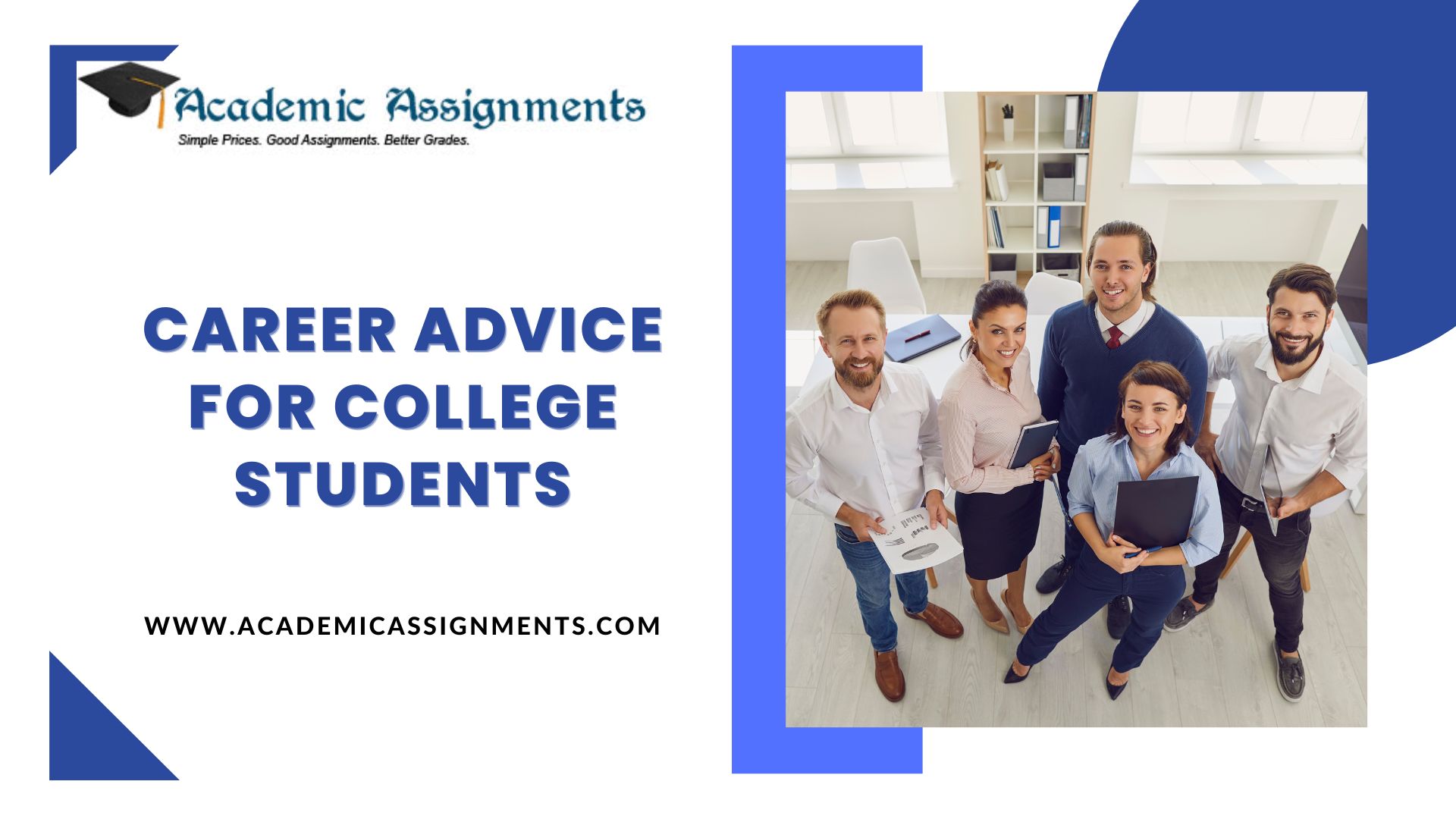 Attending college can open doors to various opportunities that can give you a head start in your professional career. Focusing on your career objectives, devising a strategy, and taking heed of the advice that could aid you in progressing in your preferred area are essential. By following these measures, you will be well-prepared and equipped to pursue job opportunities following your graduation. This piece emphasizes the importance of heeding career guidance during your college years and offers advice to help you prepare for career development.
"What is the significance of career advice for students in college?"
While attending college provides a chance to learn practical skills, it also presents an opportunity to access various resources and individuals who can assist you in advancing your career. As a student in college, obtaining advice on careers can assist you in feeling more equipped for what lies ahead after you graduate. It can also boost your confidence in your abilities, help you confirm your choice of profession, and steer you towards beneficial career choices.
The following passage presents advice for college students seeking career guidance:
In order to promote both personal and professional development throughout your college education, it's important to take into account suggestions that can facilitate your progress. Below are some suggestions to assist you in preparing for your future career while still in college:
Look for internship opportunities.

Explore participation in a work-study program.

Develop your knowledge and skills.

Begin early.

Keep your skills current.

Stay focused.

Balance personal life with academics.

Follow your passions.

Aim to achieve the highest standards and maintain your drive

Build your professional network.

Actively search for opportunities.

Create your opportunities.

Research companies on social media.
1. Look for internship opportunities:
Internships offer an outstanding chance to acquire hands-on experience in a field of interest. However, it's essential to ensure that the internship aligns with your career goals to maximize its benefits. For instance, if you aim to become a veterinarian, interning at an animal shelter or kennel would be advantageous to learn about animal care and handling.
There are various ways to find internship opportunities while you're still in college, whether it's in small businesses or large corporations. Some strategies for locating internships include:
Networking: Talk to your professors, classmates, family, friends, and academic advisors to find out about internships that align with your interests. You can also seek advice from alumni about internships or entry-level job opportunities.

Attend career or internship fairs: Many companies attend these fairs to look for prospective interns or employees. Attending these events gives you a great chance to meet potential employers in person.

Conduct online research: Many companies post internship openings on career or internship websites. You can also check the company's website for relevant internship opportunities.

Contact potential employers: Identify companies where you'd like to intern and reach out to their human resources department to inquire about available internships and their qualifications.
2. Explore participation in a work-study program
You can consider participating in a work-study program to complement your internships. These programs are designed for students who need financial assistance and are offered by federally accredited colleges and universities. They provide part-time jobs during your undergraduate or graduate studies, which can help you earn money to cover your educational expenses. In addition, work-study programs provide a chance to gain experience in community service and develop knowledge in your field of study. These programs offer job opportunities that are directly related to your coursework.
3. Develop your skills and knowledge
Having a diverse set of skills is appealing to employers. To expand your skills and understanding, take advantage of your college experience. Consider choosing elective classes that are related to your professional goals. If your ambition is to become a photographer, for instance, taking an art course could help you develop your creativity. If your college does not offer courses on the particular skill you wish to acquire, consider buying relevant software to build your proficiency.
4. Begin early
In order to increase your chances of success in your career, start exploring potential opportunities before completing your college education. Look for employment opportunities that are relevant to your field of study. To illustrate, suppose your professional aspiration is to be a graphic designer, it would be wise to work for a design agency to acquire a comprehensive understanding of the job requirements and get insights into the industry. In the same vein, suppose you're an art major, working for a nearby gallery can provide valuable insights into the art industry. The sooner you begin looking for opportunities, the higher the likelihood of finding suitable employment.
5. Keep your skills current
When applying for a job or internship, you can expect to have a lot of competition. To stand out from other candidates and make a good impression on potential employers, it is essential to keep developing your skills, regardless of the field you're in. This involves keeping yourself informed about the latest industry trends and technological advancements. You can stay updated by conducting online research, reading professional publications, or using resources like your school's library.
6. Stay focused
Maintaining a clear focus on your career objectives and goals is crucial. Learning from your experiences and allowing them to direct and motivate your decisions is important. Even negative experiences, such as being in an unfulfilling job or working under a difficult boss, can provide valuable lessons and insights that can be useful later on. Rather than dwelling on the negatives, keeping a positive outlook and understanding that these challenges can help develop your professional skills and make you a stronger candidate in your field is essential.
7. Balance personal life with academics
To maintain a healthy and well-rounded life, finding a balance between your work or school commitments and personal time is essential. Engage in activities outside your career or education, such as spending time with loved ones, travelling, pursuing hobbies, or trying new things. While focusing on your academic or career pursuits is crucial, leaving time for leisure can improve your overall well-being and encourage you to maintain a healthy work-life balance in your future career.
8. Follow your passions
To find fulfilment in your profession, it's important to identify what you have a passion for. If you are interested in working with wood or metal, pursuing a career in engineering might be a good fit. Doing what you love can help make work more enjoyable and less like a chore. In addition, following your dreams can boost your motivation, increasing productivity. This guidance is especially pertinent as you advance in your profession, as it can assist you in staying driven and dedicated to attaining your objectives.
9. Aim to achieve the highest standards and maintain your drive
To succeed in your first job or internship, aiming for excellence is crucial. Acknowledge your mistakes and trust in your capabilities to achieve your goals. This mindset can help you stay motivated to pursue your aspirations and enable you to progress in your profession. In the end, striving for excellence is the key to achieving success.
10. Build your professional network
Networking is crucial during your college years as it can offer you valuable information and connections with professionals in your field. Here are some effective networking strategies to consider:
Create a strong connection with the faculty and staff in your school by actively participating in class, attending office hours, and asking questions. This can help you to establish a good relationship with your professors, who can connect you with colleagues or former students who can offer valuable advice and serve as a reference.

Make contact with recent graduates who can provide helpful tips and strategies for your career, and potentially introduce you to recruiters at their own company or other organizations.

Utilize online networking opportunities by connecting with alumni in your field on social media platforms and joining online networking groups to exchange advice with others in your industry.

Attend various networking events, such as job fairs, to meet different professionals in your field and gain valuable information. Be sure to dress in business casual attire and bring printed copies of your resume to share with recruiters.
11. Actively search for opportunities
During your time in college, there are various avenues through which you can acquire experience, including internships, jobs, and volunteering. These experiences provide a great way to hone your skills and develop your expertise in your field of choice. It is important to actively seek opportunities to help you in your future career and leverage these experiences to gain a competitive edge in the workforce.
12. Create your opportunities
It is beneficial to think outside the box when seeking experience and consider creating opportunities for yourself. Here's a possible paraphrased version: "Creating your own opportunities can be beneficial for gaining experience and building skills in your field. One way to do this is by starting a blog, launching a photography business, or designing an online course. These endeavors can also help you develop important soft skills like communication and leadership that are valued in many industries."
13. Research companies on social media
You can gain various advantages by using social media to connect with companies that interest you. Aside from being notified about potential job openings, it can also allow you to learn more about the company's values and work environment and demonstrate your eagerness to work with them.
Author Bio: Mark Edmonds is an experienced academic writer and editor who works at Academic Assignments, a leading provider of assignment writing services. With over 15 years of experience in the industry, Mark has helped thousands of students achieve their academic goals by providing top-quality university assignment help. He holds a bachelor's degree in English literature and has completed several professional development courses in academic writing and editing. Mark's expertise in various academic disciplines, combined with his exceptional writing skills, has made him a trusted resource for students worldwide. His articles on career advice for college students are widely read and highly respected.