Commercial and International trade law assignment help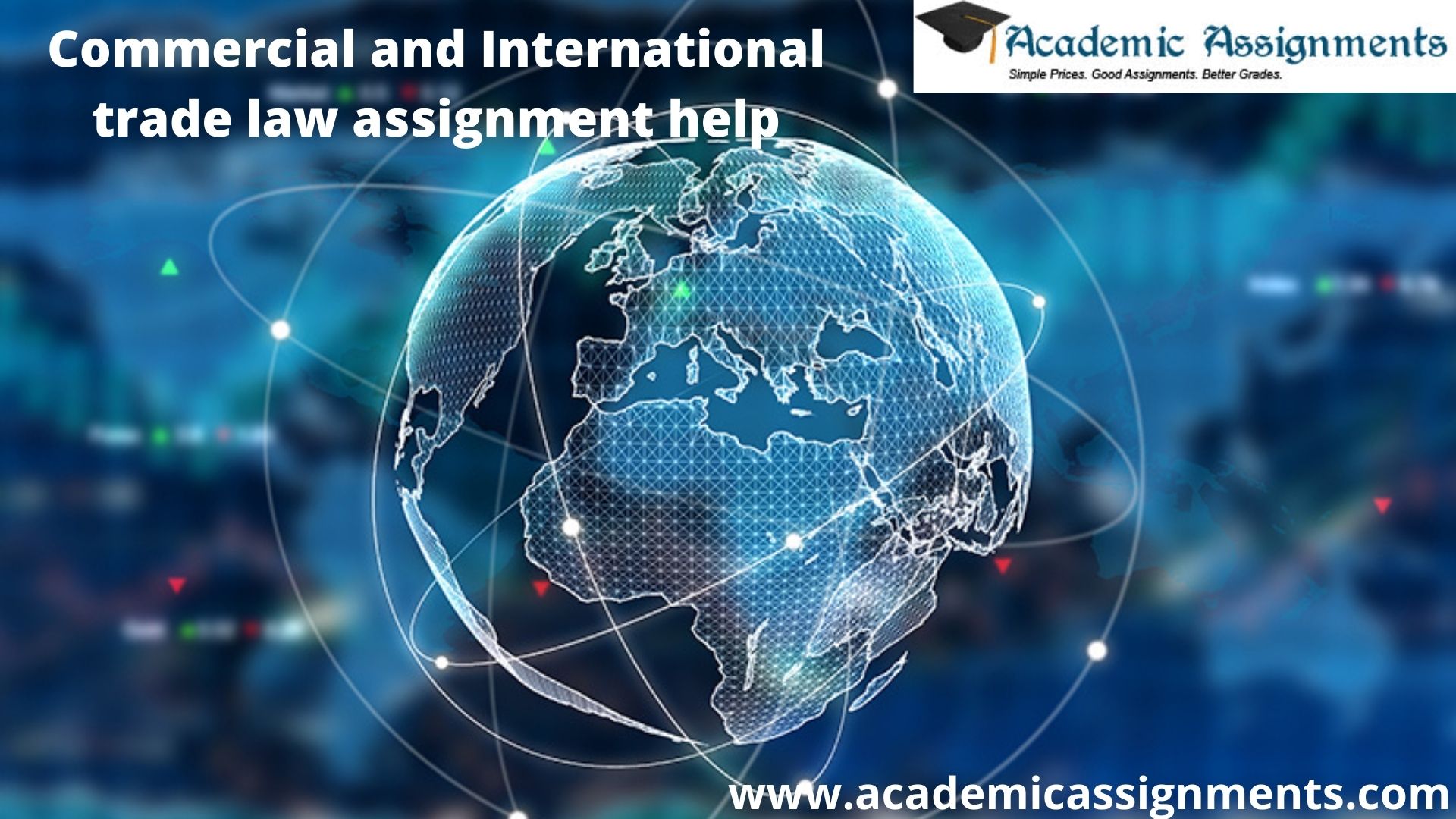 Commercial law is considered a body that regulates the conduct of the merchant, individual, and businesses engaged in trade and commerce. This kind of law interacts and communicates with various other laws such as environmental regulation, real estate, safety laws, and many more. At the same time, international trade depicts the exchange of goods and services or sometimes capital across the international borders due to the emergence of need and globalization. When the trade of goods and services happens, many other factors are considered that can influence the process or trade. These factors are government policies, laws, international market, judicial system, and economy of the related state or country. So it can be said that international trade and commercial law programs together provide practical and genuine knowledge to individuals about the international law of trade, currency, intellectual property, economy, and a lot more. Our service covered the best academic help online, so commercial and international trade law assignments help contact us without much hesitation.
In general, international trade law portrays the rules and regulations governing trade between any country or state. The international trade lawyers generally focus on domestic laws to treaty-based international law.
One of the two significant factors that international trade on the domestic side include is export control and remedy work. Trade remedies are considered the tool utilized by the government to implement corrective action plans against all kinds of imports, harming any domestic industry. This harm is generally done due to practising any foreign pricing or foreign government subsidies. For example, anti-dumping measures are imposed to counteract the unfair low prices. This generally occurs when a company sells a U.S based product or service in its home country at a low price compared to the U.S market, thus harming the U.S industry.
Some firm practices in Europe generally focus on one aspect of the law, i.e., antidumping. At the same time, other firms' practices focus on every aspect or field related to international trade. The growth area of international trade law in the future will be related to the laws surrounding data and security information flow. This is because this factor is quite different in every country.
What is the function of International trade lawyers?
The international trade lawyers advise the European organizations to do their respective businesses abroad and in the foreign market. In such case, the organization may hire well accomplished international trade lawyers to advise them on relevant international trade rules and regulations, advise them on conducting internal investigations, help them to prepare voluntary disclosures, and implement them in actions related to the violation of such rules.
Trade lawyers of a specific organization tend to resolve all related disputes. These lawyers may also be involved in lobbying efforts on behalf of their respective clients, influencing the international rules. Our experts provide the best commercial and international trade law assignment help to our clients.
The Commercial law of Nations and its sources
When states become more active in a particular area or domain, increasing international commercial transactions become the necessary concern of public international law. Some of the sources of the commercial laws of the nation are
It is said that intentional customs are considered to be a continuous habit for doing specific related actions. International commercial customs differ from other international customs in many aspects. They mainly differ in their origins and character. However, they always play a significant role in determining the commercial laws of the nation. They generally emerged from the different commercial practices.
Nowadays the international agreements have replaced international customs as the principal source of commercial law of a nation. These agreements play a significant role in law-making, regulating economic, social, administration, and cultural matters during the absence of other international legislation.
Decisions of International Tribunals
The court often makes decisions and developed specific laws based on social needs. Although the international commercial arbitration tribunals are yet to become instrumental, they can play a vital role in developing a new body of law for resolving any dispute.
The Law of International trade and its sources
The international trade law offers more effective solutions to the problem related to international trade. Similarly, for the best assignment help contact us to guide you more effectively to solve your queries. Some of the significant sources of this international trade law are
International Legislation
It is considered to be a deliberate normative regulation that can be devised internationally and also can be introduced in the national legislation. This legislation is created in the form of two ways, and they are- Firstly by states adopting and drafting multilateral international conventions in commercial matters. And secondly, by formulating uniform model laws that states can adopt unilaterally. So, according to many experts, International conventions are utilized as a tool in the development and unification of the law of international trade for many decades across many countries or states.
International trade Customs
International trade customs are deciphered to mean the standard types of agreements and general conditions formed by different global organizations. These global organizations are the International office of commerce, the United Nations Economic Commissions for Europe, the International Law Association, and other related organizations. For international trade customs, the empirical method is often used. According to experts, international agencies tend to employ various practices and techniques to process and formulate trade customs.
So in the last, it can be concluded that this report portrayed the various aspects of commercial and international trade laws. The main aim is to provide an overview of international trade law, to make individuals understand the different dimensions of the trade law and where it might go in the future. So it very important for the organization to develop an adequate system of laws that deals with trading in the international market. Sometimes, commercial law and international trade law can be pretty complex as they constitute many other factors. So our online assignment writing services will help the student make the subject a lot easier and simple. For any commercial and international trade law assignment help, feel free to contact us; we will be very happy to serve you.